Budd Lake (July 2003)
We started our vacation at Laura and Scott's cottage on Budd Lake. It was great, and there was plenty of room. The kids loved fishing and swimming in the lake.
Ray was relaxing first with Aunt Lisa, and then Aunt Laura. We had some great family time.
Ray and Maggie having lunch with grandpa.
Ray and Matt went swimming with Uncle Scott.
Grandma gave Joe a bath in the sink.
The kids got to hang out with Grandpa Chelemen.
Matt and Maggie helped Uncle Scott make breakfast. I am not sure if these were chocolate chips or blueberries since Matt ate them all before I got one. The plain ones were good to.
Maggie loves to color.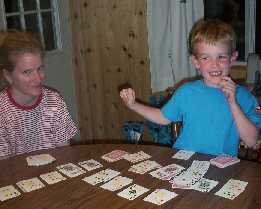 Aunt Lisa probably shouldn't have taught Ray to play double solitaire... since he beat her his second game.
The kids loved fishing.
There were plenty of fish, and we caught several keepers. This wasn't one of them.
Even Maggie caught a couple of fish.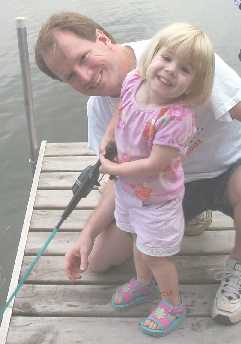 We had a great time.
---
Last revised: 11 Oct 03